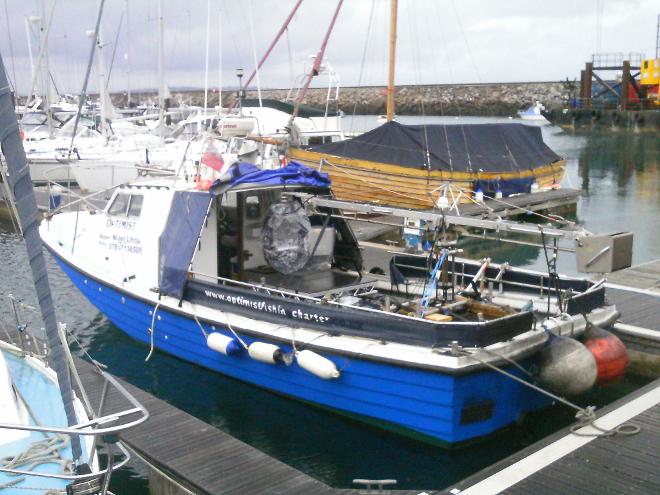 The picture above shows Optimist kitted out with crane and gyro camera for a film shoot with Zap Productions
Survey and Workboat Duties

With Optimist a MCA-SCV2 coded work, survey and safety boat to suit almost every conceivable situation, the appropriate safety boat equipment to meet the needs of most projects and a professional team of highly qualified and experienced crew,
Whether you require a work, survey or safety boat for maintenance contracts, environmental or biological surveys, film crew projects, emergency support or any project requiring commercial work and safety boats, Optimist Charters can meet your bespoke, individual needs anywhere in North Channel or further afield.
From one day to much longer projects working flexible hours (including weekdays, weekends and night shift work as required), Optimist Charter provides the vessel and crew to suit your requirements wherever and whenever you need us.
Safety Boat
We can provide safety boat services for a wide variety of operations from yacht and rowing races to dive safety and guard boat duties, our skipper and crew have many years of experience and can offer an individual service specific to your requirements.

Work Boat
Optimist is suitable for a plethora of projects in the North Channel area or further afield (as required). Optimist is also able to carry out small cargo duties being licensed for up to 0.9 of a tonne of cargo carried on deck. With a large deck area we can also provide a good platform for film and TV work comfortably carrying a crew of 6/7 and associated equipment
Survey Boat
Providing the perfect platform for conducting biological, environmental and marine surveys, Optimist can provide a
MCA-certified vessel and a qualified skipper for a range of marine services.
Our survey services are versatile, allowing us to undertake a range of survey boat projects around the North Channel coastline.
Optimist's survey boat services include:
• Cetacean research and photo identification
• Marine mammal and bird population surveys
• Deployment of instrumentation
• Sea bird abundance surveys and tracking
• Bespoke surveys
• Structure survey and inspection
• Crew transfers
• Water sampling
• Filming/photographic work
• Safety boat cover